Business Cards
Business cards are essential for publicising and promoting your business. As your business card will often give your customer a vital first impression of you and your business, it pays to get it right.
Here at Print Point Carlisle we offer many options, ranging from simple single sided cards to double sided laminated cards, enabling you to choose the business cards that best suit your needs & budget.
You can send us your print ready files, or let us take care of the design for you, call 01228 544144 to discuss your needs or contact us online.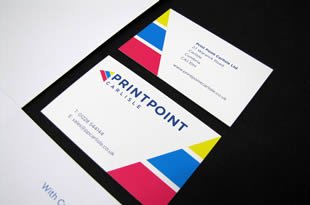 BESPOKE SIZES
In addition to standard sizes (85 x 55mm) we can of course print business cards to bespoke sizes as you require.
Finishing
Business cards can also be laminated or have a Spot Uv (varnish) applied to a particular area you want to highlight.
ARTWORK
For your convenience, our Artwork Guidelines provide details of the specification we require to provide you with the best results.