Stationery
LETTERHEADS & COMPLIMENT SLIPS
Our Letterheads and Compliment Slips are printed as standard on 120gsm Laser paper. Whatever the quantity, we can supply - from 100 to 100,000 - ask us for a quote.
NCR PADS & BOOKS
Company Stationery can encompass a vast range of printed material. At Printpoint in addition to letterheads and compliment slips we can provide invoices, duplicate books (NCR) for site records, receipt pads, despatch, delivery, advice notes etc.
Call us on 01228 544144 to discuss your requirements.
PRINTED MEMO PADS / DESK PADS / PENS
Corporate memo pads, desk pads and pens are an excellent way to publicise your business. How else do you get your phone number on your customers' desk - every day!!
For all corporate stationery you can send us your print ready files; alternatively, with in-house graphic design capability we can help you with the design and layout of your stationery. Call us on 01228 544144, drop into our Carlisle shop or contact us online to discuss your needs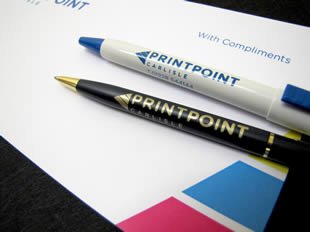 SIZES
The standard size for letterheads is A4 and Compliment Slips are 1/3rd A4, but we can also print to other sizes to meet your exact needs.
ALTERNATIVE STOCK
In addition to standard stock, many different paper types and colours are available to suit your personal corporate style.
ARTWORK
For your convenience our Artwork Guidelines provide details of the specification we require to produce the best results.